Skip to Content
Dentures, Partials & Mini Implants
Dentures in Northern, NJ
Rockaway Dental Center provides patients with a wide range of quality dentures in Morris and Sussex County, NJ. We're a one-stop shop for full, partial, and overdentures and mini dental implants. Whichever dental product you're searching for, our practice will provide skills and knowledge cultivated over 30 years to help you choose the best solution. Give us a call to consult with our dental professional today.
Types of Dentures
Dentures help replace and cover your missing teeth and provide an extra layer of protection. If you believe you may be a suitable candidate for dentures, our dental professional will offer you the most comfortable and cost-effective dentures on the market today.
Find the right fit for you by reading more about the following denture styles:
Full Dentures
Full dentures consist of an acrylic bottom base and top palate guard that interlock to cover your entire mouth. Full dentures come in conventional and immediate styles. Conventional dentures are used when all your teeth are missing. Immediate dentures are applied after your gums and jawbones heal around your mouth.
Removable Partial Dentures
A partial solution fills select gaps from missing teeth. Partial dentures along with a metal framing and crowns can be used with them to fit with the appearance of your natural teeth. Partial dentures are easily removable.
Overdentures
Overdentures are placed over your natural teeth to secure your dentures in place firmly.
Mini Dental Implants
Mini dental implants fit over your dentures to enhance their stability. They are attached directly to the denture and cannot be removed. Mini implants boost bite power, prevent dentures from loosening and reduce bone loss. They are great for covering hard-to-reach areas of the mouth.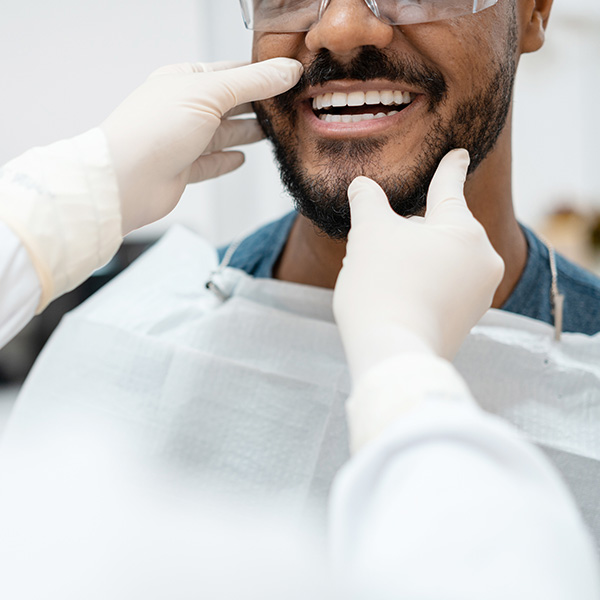 Why Should I Choose Mini Implants?
Mini implants offer patients a range of benefits over traditional implants, including:
Better Fit: Mini implants are smaller than traditional implants and fit better in harder-to-reach areas.
Fewer Appointments: Mini implants are minimally invasive with little to no recovery time, which means fewer checkups.
Cost-Effective: Mini implants cost between 25% and 33% less than traditional implants, and they're more effective.
Reduced Pain: Mini implants better protect against bone loss and density pain than the average implant.
Fewer Grafts: Mini implants reduce the need for skin grafts, which means you likely won't require other procedures.
Schedule a Personalized Consultation Today
Our dentist is here to answer your questions and provide more information about dentures through a free, customized consultation. Contact us today, and our dentist will guide you through our wide selection of fits and styles to help you find the perfect denture.
Schedule a Customized Consultation Today